Street Closures become Social Settings
A sidewalk cafe does for a city what flowers do for a woman; they make her happy and attractive. Americans in Europe have had a long‐lasting love affair with the sidewalk cafe, but they've never had much success in bringing one home—home to their mother country.[1]
New York Times, Joseph Wechsberg, March 12, 1972
As a result of COVID-19, a surprising thing has started to happen in some of our local towns. Main thoroughfares, once the singular domain of automobiles are quickly being transformed into pedestrian centers. As of June 17th, Mountain View will close Castro Street between Evelyn Avenue and Mercy Street and in Los Altos Main Street will be closed plus a section State Street between First and Fourth streets. Just last week in Menlo Park, alternate sections of Santa Cruz Avenue were temporarily sequestered, and in Palo Alto, a major section of University Avenue has been closed. Palo Alto's California Avenue, the first closure, has been closed since June 11th. And other cities are moving forward with their own street closures. Redwood City might have the most aggressive program. They are looking to close an eight-block section of Broadway plus single block sections of both Middlefield and Main Streets. It is almost as if the conversion of urban areas from auto-centric to people-centric activities has been waiting for a transformative event and it just arrived.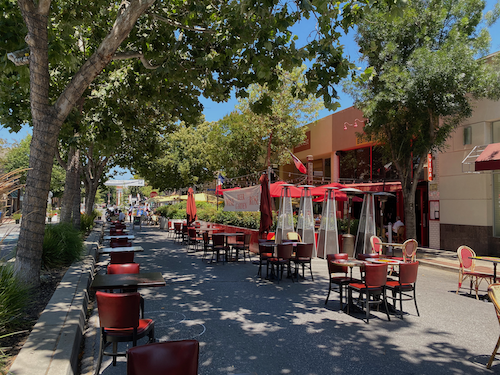 As Mr. Wechsberg lamented in 1972:
THE sidewalk cafe was created by men who thoroughly understood that sidewalks are not merely for walking. They, are also for relaxing, observing, meditating, and, above all, communing with one's fellow beings—or at least they were in the days when life was slower, cars fewer and air pollution an unknown.[2]
The challenge is, as Americans, our towns have always been centers of commerce. Looking at colonial America's village greens, commons, and town squares, these were intended as common pastoral grazing areas, not the shady lawns we see today. As such, most towns have seen commerce as the driving force in urban design. This is very evident in midwestern farm towns where diagonal parking with quick access to shops was a driving force. At the same, to achieve vehicular convenience, sidewalks were minimized. As America moved west and mercantilism dominated the landscape, sidewalks were deemed non-essential, most vividly evidenced by shopping mall parking lots where there are no sidewalks at all.
Today urban planners are looking at sidewalks that are multifunctional. Part of the sidewalk could be for either a café or display of goods. This area ranges from 7 to 12 wide, then pedestrian paths can range from 8 to 12 feet for downtown areas, and then the green zone, an area 3 to 5 feet wide for benches and planting, and finally bike lanes add another 5 feet.[3] Putting all of this together at a minimum this is an area 23 feet wide and as much as 34 feet wide. To put this in perspective, the sidewalk in front of Rockefeller Center in New York is 21.2 feet wide, but this is exclusively for pedestrians.[4] The grand Champs-Elysees, which no longer permits sidewalk parking, is 70-feet wide.
There are great reasons to expand sidewalks including limiting vehicle traffic combined with the creation of new and exciting spaces, and, of course, today social distancing. We believe and support the idea that these city centers become permanent promenades where restaurants and businesses expand onto sidewalks. If dedicated, there might be opportunities for semi-permanent farmer's markets. We recommend these promenades have a one direction single lane for public service vehicles and public transportation. Currently, SamTrans Route 89 goes straight down Santa Cruz, and in Palo Alto, VTA's Route 21 serves part of University Avenue and Route 89, California Avenue. Mountain View's Castro Street has VTA's Route 51 to name a few. These should be maintained. As for sharing the space with pedestrians, COVID 19 service is hourly, and pre-COVID service for many of these routes was every 30 minutes.
By eliminating non-essential traffic, we also have a fantastic opportunity to transform these spaces by adding a third row of trees down each thoroughfare. This will create cool zones where once again pedestrians can linger in a mostly emission-free environment near their work and shopping. As virtually all the areas mentioned have large parking areas at the rear of each retail shop, and most deliveries are at the rear of nearly every business, vehicle access at the fronts of buildings is unneeded. Of course, there are farmer's markets. With downtown promenades, farmer's markets might take on a much more European flair if on the main thoroughfares, under trees instead of on an open asphalt field.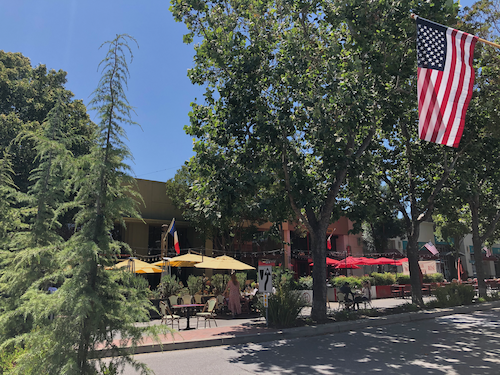 Successful examples of permanent street closures include Santa Monica's 3rd Street Promenade, home to more than 80 retailers, Boulder, CO's Pearl Street, and more locally, Santana Row. These areas demand some of the highest rents in their respective regions. In fact as of today, on LoopNet, commercial real estate's premier search tool, there are only 3 listings on Santa Monica's 3rd Street Promenade three-block stretch, whereas Menlo Park currently has 7 commercial listings offered between Crane Street and El Camino Boulevard. The clearest benefit to building owners and their tenants is the extra square footage gained by spreading onto the sidewalk. For a building in Menlo Park with a 25-foot frontage, a gain of 10-feet of sidewalk could be the addition of 250 square feet of functional income-producing space. We estimate a value approaching $250,000 for a property with these characteristics and with rents hovering around $65.00/square foot/year, this represents an increase in annual rent of $16,250.00. One should expect special permits and fee requirements from the city. The gain would certainly outweigh any cost.
Also, in the age of COVID, being able to provide services outdoors and maintaining social distancing will greatly reduce the risk of this and any other contagion spreading. This alone should be reason enough for smarter permanent social distancing plans that include expanded sidewalks and promenades. As we try to distance ourselves, anything we can do to make this happen is good. Of course, the primary driver behind the closures is to help businesses, particularly restaurants. Even with access to streets, the media is stating that businesses, particularly restaurants are at best operating at 50% capacity. So, again anything to help them is good.
Reactions are understandably mixed. Some dissenters believe, "Cars create a vibrancy that is needed..."[5] There are others who believe that just by virtue of location some businesses unduly benefit, one restaurant having access to an expanded sidewalk while around the corner another does not. One Menlo Park resident, Barbara Wood, recently wrote a letter to the editor of The Almanac that the pop-up park became, "a hangout for homeless and for the junior high students," and cautions the same will happen with the street closures. Parking remains a concern but tying parking to future development either by entitlements or zoning will address this concern. Other considerations are the service of alcohol on city properties. And, then there's the question of cleaning. Yes, these are valid concerns, but with the exception of a couple of detractors, support seems overwhelming.
As a potential homeowner looking sell or buyer considering a neighborhood, having a local destination where social distancing can be maintained will be a major component in establishing the value of a property. Most buyers select a neighborhood before their home, so anything that enhances an area's value will result in an increase in individual property values.
Don't expect the current pandemic to be an isolated event either. Sadly, COVID 19 while the current threat, is only one of many threats to our well-being. As recently as 6/30/2020, there was an alert that a new variant of swine flu has been identified and is spreading to humans. This on top of the common cold and seasonal flu.[6] This leads us to believe working from home (WFH) will become the norm and the need for safe outdoor meeting spaces valued in a way we have never experienced. The need for human interaction in response to ZOOM and the general effects of the WFH scenario is well documented. The need for human contact is essential to our well-being.
Now to supplement WFH, these areas can be places where additional activities including art and music can flourish, places to play games, conduct business meetings, enjoy a good meal and do a little shopping. Regardless of the convenience of the internet, food delivery, and streaming video on small businesses, having a place to go is will continue to be a need. We need places to socialize safely. Street closures, the creation of "café" sidewalks, and ultimately promenades will benefit all.
__________
[1] https://www.nytimes.com/1972/03/12/archives/the-sidewalk-cafe-a-flower-in-europes-streets-is-fading-the.html#:~:text=THE%20sidewalk%20cafe%20was%20created,and%20air%20pollution%20an%20unknown
[2] Ibid.
[3] More often than not bike lanes are relegated to the motorway, but included here as an essential component of the complete sidewalk.
[4] https://www.sidewalkwidths.nyc/#14.49/40.68885/-73.99243
[5] https://padailypost.com/2020/06/09/city-to-close-california-avenue-to-cars-on-thursday/
[6] https://www.nytimes.com/2020/06/30/world/asia/h1n1-swine-flu-virus-china-pig.html
Selling Your Home?
Get your home's value - our custom reports include accurate and up to date information.
Get Home Value